A Rescue Survives On Donations!
The expenses (of spaying/neutering, vaccinations, heartworm tests, prevention & treatments, fecal checks & dewormings, veterinarian examinations, medical treatment, grooming, feeding, & housing) can run into the hundreds of dollars for each dog (In 2004 the average cost per dog was $350.00). The Adoption Donation only covers medical expenses on a dog that comes to rescue already spayed/neutered. This is the RARE exception in rescue work. The rest of the expenses come out of donations and fund raisers. When rescues don't have the money to take dogs to the vet, the dogs are turned away. If the dog is lucky, it gets turned in to a shelter or pound and at least has another chance for a home. Most shelters and pounds are staffed by volunteers who may not understand the needs of these specific breeds and don't know what to ask prospective adopters. And most of these places cannot keep a dog as long as a breed rescue can. Also, some shelters automatically put down "wolfish" looking dogs and dogs over 50 pounds. So, in reality, dogs survive on donations. And it doesn't have to be money. Check out #8 of the Top 15 Ways to Help. Also click the WISH LIST link on your left to check out what our rescue can use. You can drop donations at any event we have on Our Events page .

To make a donation please send a check or money order to the address above. Make checks payable to Siberian Husky Rescue of Florida, Inc. or click below to make a donation with your credit card.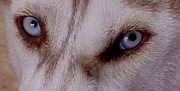 Can you look into these eyes and not want to help?
Top 15 ways to help!
If you love your breed of dog and you don't have the time or facility to start your own rescue, but you want to help out in some way...

1.) ADOPT a dog from a rescue or shelter.

2.) FOSTER a dog.

3.) Go to www.goodsearch.com Type SHRF into the 'I support' box and click on verify. Search the net just like you would with any search engine

4.) Go to a shelter just once, and work with your local rescue to find homes and use their advice, experience, forms, etc.

5.) Help with transportation or overnight a dog being transported.

6.) Do a 30-minute rescue: Tell your local shelter you will come by and groom (bathe, brush, whatever) any dog (or one dog of your breed that comes in). You can do this and walk away, knowing you have improved the dog's chances of adoption immensely.

7.) Donate: $5, $15, $25/month or whatever you can whenever you can. Label a jar "Pennies for Puppies" and put it next to wherever you empty your pockets. You can also put one at work on your desk (you'd be surprised how much change you accrue at the end of one week).

8.) Make a donation in memory of your favorite pet.

9.) Cruise flea markets or discount stores - rescues always need: towels, blankets, no-skid bathroom rugs, unused dog beds, paper towels, bleach, grooming supplies (nail clippers, brushes, dog combs, dog shampoo, flea & tick shampoo and prevention), first-aid supplies (Triple Antibiotic ointment), crates or airline kennels, gift certificates to PETsMART (or others), kiddie pools & large galvanized tubs for water, dog biscuits, dry/canned food, and dog dryers (forced air, not people hair dryers). Cruise PETsMART.com now to find some great stuff to donate!

10.) Talk to your local shelter and TELL them about a national or local rescue. They often do not know we are out there.

11.) Distribute flyers about breed rescue to your local shelters, pet stores, and vet offices.

12.) Talk your local pet stores into donating items or food to your favorite rescue.

13.) Spay/neuter your pets so their unplanned pregnancies do not end up in rescue eventually.

14.) Shop the numerous pet stores on-line and when you buy that food at a discount, have one bag shipped to your favorite rescue. Check out pets.com, petopia.com, dogtoys.com, PETsMART.com for bargains. People have ordered from them and shipped to us.

15.) Hug your favorite rescuer. Sounds corny? A pat on the back or an encouraging word or just a wordless hug can often bolster the spirits of a rescuer who is disheartened & overwhelmed (which happens all the time). A few moments of your time to tell them you admire their work, that you appreciate their sacrifices, will mean a difference. Your local rescuer is fighting the Good Fight, cheer them on.

© SHRF, Inc. COPYRIGHT 2006 ALL RIGHTS RESERVED

FOSTER ALERT!
We are in desperate need of Foster homes to help save more Siberians from neglect, abuse, abandonment and illness. We can not save these precious fur balls without your help. If you can open your heart and home to just one fur ball you can make a difference! By becoming a Foster you are not only saving a life, you are helping give a Siberian a chance at a new home...a new life! Can you look into this fur babies eyes and not want to help? Click HERE to find out more!
If you find any problems with links or images please notify the webmaster